Many pets need only for their owners to reach for their leashes to get excited about going out, and some scramble to their feet at the mention of the word "outside." Going outside is part of a dog's natural behavior, and it is also an important key to a dog's happiness.
Packs of dogs in the wild wake up in the morning and go out searching for food or a place to do their business. It is natural for your house pet to do the same. During a walk your dog will be able to see, smell, hear and experience new things. This is the ultimate entertainment for a dog: new things. A dog is even more mentally stimulated if the location of their walk changes frequently. This stimulus will prevent a dog from being bored. Being bored can lead to anxiety, compulsive behavior, and hyperactivity.
A daily walk also devotes energy that would otherwise build up and could manifest in bad behavior. A walk with the pet owner is usually the only time your dog may be able to exercise. A walk gives a dog the opportunity to stretch their legs and experience different types of activity, both mental and physical.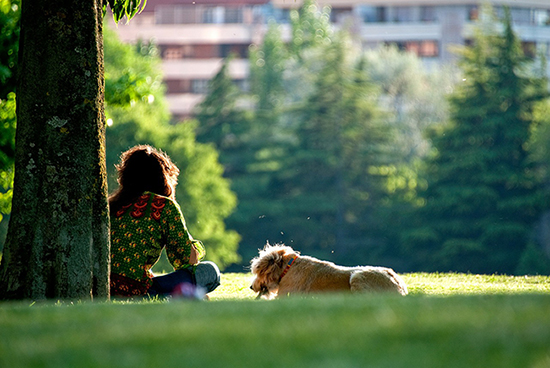 The relationship between dog and owner during the walk is also important. You, as the owner, should determine if your dog still wants to keep exploring and know when it's time to go home. In other words, lead the dog instead of letting the dog lead you. It does not mean that your dog can not get in front of you on a leash – some well-trained dogs learn to walk next to the owner and not the in front. If your dog isn't that well-trained when you're out on walks, consider reading a book on dog training or sign your dog up to training.
A daily walk gives a dog the opportunity to meet other dogs and people. Dogs may be cautious or aggressive to strangers and other dogs if they do not have the experience of meeting strangers and other dogs. While other dogs casually walk by or are restrained behind a fence, your dog can still hear and smell them. Ideally, socialization occurs in a dog park or other open areas where many dogs can meet.
How you and your dog are treated depends largely on how you behave towards the environment. Therefore, when you go outside always keep your dog under supervision. Off leash dog parks are also a great place to let your dog run around and socialize. Not only will your dog be able to meet other dogs, you also have the opportunity to meet other dog owners. Oftentimes, you may get to learn some useful tips by listening to what other dog owners have to say, or what some of their experiences have been so far. You do have to be a bit careful about following advice some may give, as those may not be appropriate for you or your dog. Both you and your dog can enjoy the park's amenities and the fresh air. When a dog is not kept on a leash, make sure your dog wears a collar with their owner's name, address and contact number.
Here at DogParkNearMe.net, we provide a list of dog friendly parks around your location. If you know of any dog friendly parks that are not in our directory yet, please feel free to submit a listing!